We are thrilled and honored to offer our facility for the training of Therapy Dog Teams.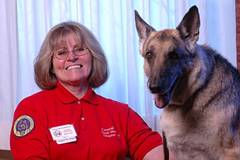 Please contact Angie Jones for more information.
Angie's Basic Obedience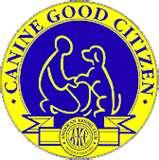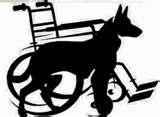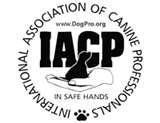 As a therapy dog trainer, founder of a therapy dog chapter, 9 years of on hand therapy dog volunteer visits, Associate Member #J2705 for the International Association of Canine Professionals and finalist for the 2007 Jefferson Award. I find that there are many wonderful people in the community willing to volunteer their pet dogs in Nursing Homes, Hospitals, Children Related Programs and Community Adult Care Centers. While these services are much needed and welcome, I also find that often many of these dogs are lacking in the socialization skills and worldly experience necessary to perform well as Therapy Dogs. In addition, some of the dog owners are unprepared for the situations they will encounter in eldercare facilities.
While there are evaluations for AKC/CGC and Therapy Dogs available, there are few local programs at present for training Therapy Teams properly. General obedience training is a very necessary beginning, but what is also required is a desensitization and orientation course. A course such as this allows the dog and owner to experience many things that do not occur normally at home, elevators and escalators being a prime example. Dogs are highly sensitive to noises that we barely hear or tune out regularly. The high pitched whine of a respirator for instance, can be very irritating to dogs ears, so dogs must adapt by degrees to noises such as this. Also, the wheels of a wheelchair, clanking & shuffling noise a walker, cane and crutches & IV poles also the different types of surfaces in which to walk on, carpet, slippery floors & tarps that may be laid for construction work.
All the above I take into consideration in my therapy dog training class.
The first Items of concern are the training mentioned above and the second are the health and cleanliness standards. I use the standards set by several different Therapy Dogs Organizations, for qualification for the Therapy Dog/Canine Good Citizen test.
Angie Jones- Therapy Dog Trainer/CGC Evaluator (614) 279-0908 Columbus Ohio